PANSAVER® SHRINK-TIGHT™ PanCovers (400˚f)
User Benefits
Keeps moisture in food better than cling
wrap and foil
Strong & stackable - saves space
Spill resistant – prevents mess in oven
Clear, markable film provides immediate identification of pan contents
Works well on disposable aluminum pans – no cut fingers from crimping on lids
Certifications – BPA Free; NSF; FSSC 22000; Patented
Professional Solutions
for Restaurants
PANSAVER® OVENABLE PAN LINERS (400˚f)
User Benefits
Saves labor – eliminates scrubbing
Improves food quality – prevents moisture loss
- Moisture contributes flavor and temperature to food
- Food held on lined pans is on average 20°F warmer than
food held without liner
Makes food safer – eliminates chance of surface contamination from pan
Facilitates HACCP compliance
Certifications – KOF-K; BPA Free; HALAL; ISO9001; CFIA; TÜV; NSF; FSSC 22000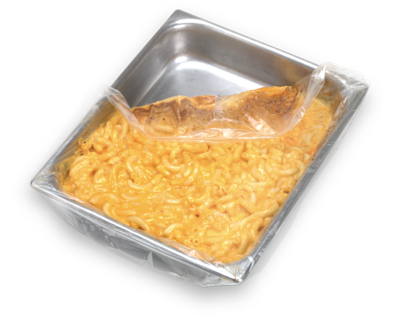 Testimonials
"Rarely has a new product been as practical and economical for both single unit restaurants and large chains. My cream soups and mashed potatoes don't scorch in the steam table and cleaning pans of marinara is a snap."
- D.H., Chef, Philadelphia, PA
"We began receiving positive comments the very first day we started using PanSaver®. Our employees no longer have to scrub the dishes. Our customers love the better taste and quality of the food."
- P.C., Owner/Operator, Fergus Falls, MN
"…I can't tell you how much the PanSaver® Cook Chill program has done for my kitchen. More important than anything, it greatly contributes to my products being higher quality. The higher quality is a result of faster cooling and faster heating of food. The kitchen is easier to operate and I am saving money too. That is a pretty darn good combination and only becomes more important as the economy makes things tougher on restaurants."
- Pat, Kitchen Manager, MI
Pansaver® Cook Chill system
User Benefits
Facilitates food on demand vs. cook and serve
– Saves labor
– Ensures product consistency
– Allows for proper portioning/less waste
Safer, more organized storage of food (28-day
refrigerated shelf life)
Certifications – KOF-K; BPA Free; HALAL; ISO9001; CFIA; TÜV; NSF; FSSC 22000
PANSAVER® Oven bags (400˚f)
User Benefits
33% faster cooking time (saves energy
and money)
7% greater yield due to moisture retention
0% clean-up – keeps oven and roasting pan clean
Certifications – KOF-K; BPA Free; HALAL; ISO9001; CFIA; TÜV; NSF; FSSC 22000
Pipinq™ Disposable pastry bags
User Benefits
Saves labor – no need to wash/bleach
like cotton bags
Hygienic – clean bag is always available
Comfortable – no -slip comfort grip reduces
muscle fatigue in hands and arms
Certifications – KOF-K; BPA Free; HALAL; TÜV; NSF
Pansaver® steam table pan liners (220˚f)
User Benefits
Saves labor – no soaking/scrubbing
steam table pans
Certifications – FSSC 22000